Before leaving on Friday, I said something to Jo along the lines of, 'I'll write up the weekend in my blog. I don't take pictures, you see, I write. That's my way of understanding and remembering.' Perhaps appropriately, I think I used actual film in my psychological camera and have had to send it away, and wait for it to be developed.

Without a doubt, that's the most significant experience I had over the weekend. I've been back almost a week, and I've not put fingers to keyboard for anything other than emails and forums. Stormy Weather is still languishing and I need to find the time to work on it. I get twitchy if I don't write for too long, and it's been far too long; for weeks before the Asylum, I was working on my jacket instead of writing.

The long weekend itself was inspirational. It was like an alcoholic being given a free bar, and I'm still spinning.

Whitby was a lovely weekend, but people were very much, well, people. They stayed in their cliques, and talking to anyone else was awkward. The costumes were amazing, but it was sort of like shopping. Lincoln was more like...

It was so easy to talk to people. We arrived on the Friday, booked into our B&B which was some lovely old couple's house, and made our way up a very unforgiving hill to register. We then sat in the beer garden of a near-by pub and recuperated. As the pub was near-by, other attendees came by. They sat down with us, introductions were swapped, and conversations happened. Just like that. People came and went and circulated and went off to get changed for the evening. I had a conversation with a wonderful man who turned out to be Robert Rankin.

Friday evening saw Trousseaux, comedian Andrew O'Neil and Sunday Driver play for us in said beer garden. The acoustics weren't great, but the performers were. Andrew O'Neil told us that this was probably the last time he would be performing his 'Absolutely Spot On History of British Industry', and we were the weirdest hecklers he'd ever performed for. Allegra, Cal and myself danced to Sunday Driver, right up by the band. We were the only ones dancing, which I thought was strange at the time but now realise was prophetic.

We were up early Saturday to set up the stall and sell SteamPunk Magazine. Sales were slow but steady throughout the day. Again, the highlight was the people. They'd come over, and we'd talk. People would hang around the table and talk about costuming and music with us. Good friend Fozz also hung around a lot, chatting and talking up the magazine. I had a look around the other stalls, but decided the waistcoats looked too... well, neat and finished and by the time I decided to buy an opium pipe from Major Tinker, he'd sold them all. I was very impressed by his range of vegan 'leather' products and made sure to tell him. Terry Martin had a stall selling Murky Depths opposite us, as did a charming gentleman and his wife, selling watch parts and other sundries. I told them they were cruel because I didn't have the time to put the pieces to good use, and they turned out to be Rachel and Robert Rankin. Terry and I talked and pawed each other's merchandise.

There were also classes in folk dancing, a creative writing discussion, a costume competition (MC'd by Mister Rankin, in flamboyant style) and other activities I couldn't go to because I was at the stall and not caring about not going because I was in the middle of people who wanted to talk and engage and have conversations.

The evening had Fearless Vampire Killers, The Men Who Will Not Be Blamed For Nothing and Ghostfire playing. (I should point out that Ghostfire's myspace is no longer hideous and waits to be asked before playing music at you. Also, I had a chance to meet them on the Friday and they scared me. Poor social skills + OMG Ghostfire! + extrovert musicians who'd just driven up from London and were probably still tired from the journey + professional musicians pissed off at the sound and acoustics = Foxie trying to be a wallflower but having no way of escaping...) The sound system was terrible, only the drums and bass being audible.

I was quite happy to treat this as a normal gig. I hung around the edges and talked to people, and got up by the stage and moshed. There were a few others, but no 'pit'. Only when Ghostfire announced they had written a song for us, and it was a waltz did the floor fill up.

Afterwards, people complained about the music being too loud and not being able to talk to each other. In their pub gig days, Dire Straights used to ask for the volume to be turned down on their equipment so people could still talk to each other if they wanted. When they came back for an encore, Ghostfire asked the audience if they wanted Vaudevillian or the waltz again, and people wanted the waltz.

This wasn't an ordinary gig. People wanted the socialising and engagement to continue. They wanted to talk and dance and engage through the music, not just stand in front of the band and jump up and down. They wanted the chance to use the folk dances they'd learned during the day and they wanted to dance with people, not just in the same space as them. This was the point Steampunk music became something separate from anything else out there at the moment. Other gigs, you have the band, and you have the audience, and never the twain shall meet. There's a barrier between performer and consumer, where the former produces music and the latter absorbs it. At the Asylum, there was almost tangible resentment at that barrier. People didn't want to just dumbly consume from the mosh pit. They wanted some sort of symbiotic level ground where musician and audience were part of the same entity, creating something more than the sum of its parts.

It's hugely exciting, and something I personally am going to work towards making happen. Mostly by supporting Allegra as she does all the hard work. More on that later.

So, since coming back I've been on Brass Goggles talking to people, trying to keep that engagement alive. I've been looking at their photos from the weekend, reading their blogs... And trying to bring some order to the bjallon new projects I now have to do.

Now, here's a photo of me in my jacket, along with Allegra and Cal: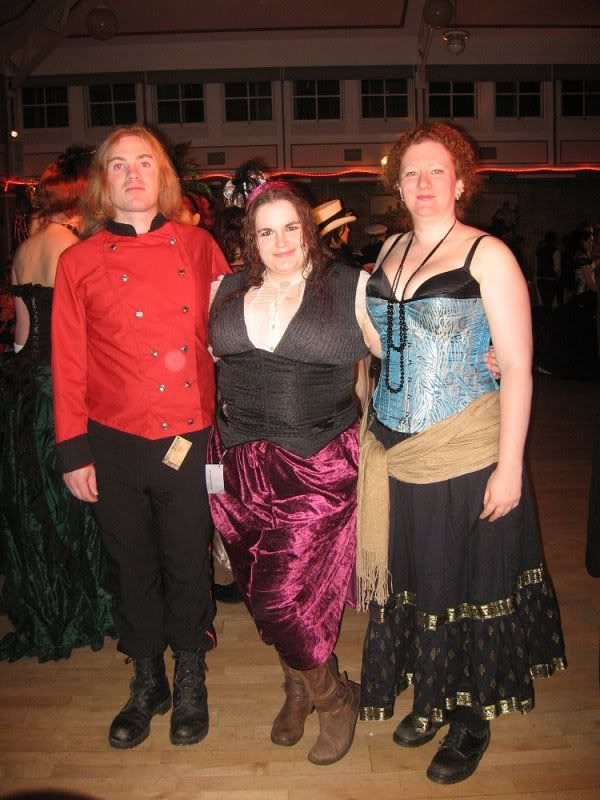 There's nothing actually wrong with me, cameras just make me go rigid. It's something to do with they way the photons from the flash interact with my hind-brain...